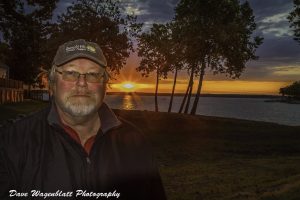 Our Wonderful Backyard
 By Dave Wagenblatt
One of the most wonderful things about living at Grand Lake, OK is our backyard. Actually our backyard is Grand Lake, OK.  From our deck, we look east from Monkey Island across the main lake toward Patricia Island. One day a light came on in my head, and I realized and appreciated all the changing beauty Debbie and I get to witness… Nature at its best! The fiery red/orange morning sunrises and the evening full moon shimmering across the lake are so tranquil. This serene setting will certainly add happy years to our lives. The changing of the seasons adds to the experience. The term, "Spring has Sprung", takes on a new meaning and dimension with the dogwoods and redbuds blooming. Activity is all around, as there will soon be new life.  We also enjoy the privilege of viewing the wildlife up close. Birds are everywhere, but beyond the usual robins, wrens, blackbirds, cardinals, bluebirds, gold finches, and hummingbirds, there is more. We also have seen egrets, blue herons, mallards, geese, sea gulls, pelicans and even American Bald Eagles which winter here. There's even more.  We see chipmunks, gray squirrels, rabbits, skunks, raccoons and occasionally a wild turkey, red fox or deer.
Our backyard comes complete with other entertainment. Summer brings the peak of activity.  People from all over the United States come to the lake to escape, relax and have fun. People want to enjoy a brief get-a-way from their everyday duties and responsibilities. All the water sports can be seen in our back yard: swimming, skiing, fishing, sailing, and boating. We also watch the Cherokee Queen cruise by, giving tours or dinner parties along the Grand Lake shores. The Cherokee Queen is a Mississippi style paddle boat reminiscent of the Mark Twain era, which starts from Sail Boat Bridge traveling to the tip of Monkey Island and then back again.
Fall is our favorite time of year, if we had to choose one. (We actually love each season here.)  After Labor Day, activity starts to slow down. The air will soon be turning crisp bringing a new freshness.  The leaves will turn color, and the fall migration will begin. Fall festivals are coming, such as the Grand Lake Rally, a "Taste of Grand" fund raiser, the Fall Wine Festival, and the Pelican Festival. There is always something to look forward to at Grand Lake. And there is our back yard. It's the same backyard, but it changes with each season. Each day is different with something new to discover. How lucky can you get? It's like winning a lottery in life.
The winters are still fantastic as we sit in front of our fireplace and look out through our picture window at our magnificent backyard….. Of course, I mean Grand Lake O' the Cherokees. It's like living in the middle of a picture on a Hallmark card, 365 days per year. In wishing you the best, it means that we wish you could have a "backyard" like ours.  As we say on our websites… If you're lucky enough to live at Grand Lake, you're lucky enough!
Dave & Debbie Wagenblatt, The Get "Grand" Results Team©, are top producing Realtors® with Coldwell Banker Select at Grand lake, OK. To learn more about the Grand Lake area and community visit their web site www.GetGrandResults.com among others.